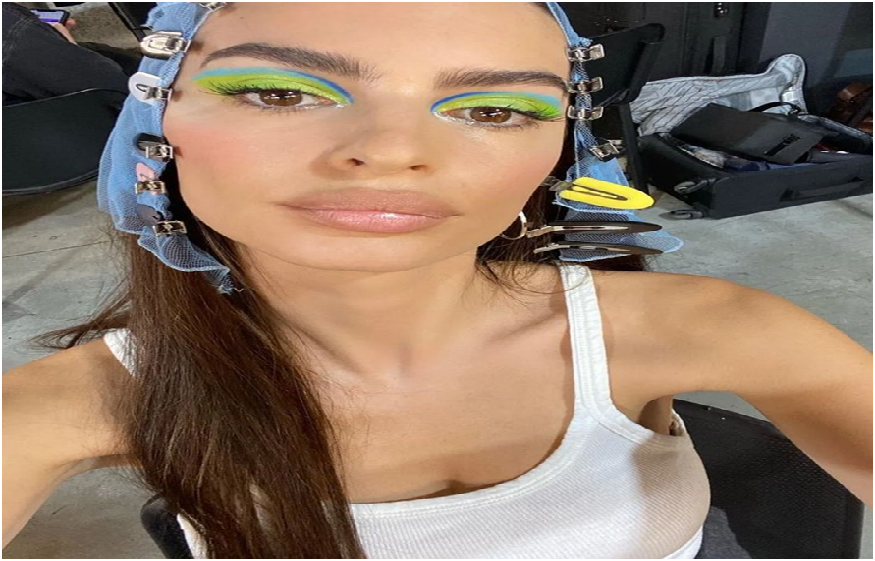 Beauty Trends Set To Take Centre Stage
With a specially curated list of our top 4 picks from this season's trending beauty looks  – and how exactly to achieve them, we've got you covered from head to toe. 
As we near the end of Winter's icy highway and take the first exit towards the spirit of Spring, what a pleasure it is to see such blue skies and the playful maximalism the beauty realm brings with this season. Set to dazzle and excite us in what can only be described as a season of nostalgia and futuristic tones, we've never been more excited to experiment with these creative cues. New York, London, Milan, Paris and Sydney had us head over heels with heart eyes as we watched runways flaunt wet, natural wavy locks, bold eye accents, dewy skin, ethereal elements and rosy hues. So, in honour of the season of fresh starts, we've helped curate a list of the top trends to embrace as we swap scarves for sundresses. Grab your colourful eyeliner pens, wind the windows down, and enjoy the beauty edit ride.
Neon Lights
Spring/summer's 2022 eye makeup take was noticeably more technicolour and – dare we say – Rainbow Brite–inspired over the traditional black smokey. If there was one thing Euphoria showed us, other than what it's like to experience emotional stress, is that graphic design is no longer confined to a computer, instead, it takes over the canvas of our eyes. Haute couture fashion clearly is obsessed over this trend too, with Valentino's graphic black dagger liner taking over the internet and an array of catwalks, showing that neon-coloured lids are here to stay. The rainbow of strokes at Versace were our personal favourite, but the vibrant looks at Prabal Gurung proved to be a close match. The future of this season is so bright with graphic lines and negative space eye looks in a multi-colour of baby blues, yellows, pinks, oranges and whites for a more retro aesthetic. Whether it's the upper or lower eye lid that takes precedence with your design of choice, this trend will have everyone's eyes on yours. Whilst this look is seemingly complex, set yourself up with Bobbi Brown's vitamin enriched eye base, a M.A.C colour excess gel pencil eye liner of your choice, Estee lauder's double wear stay-in-place eyeshadow base and Lancôme's long time no shine loose setting powder (perfect for bendability and smooth strokes). Lastly, of course, M.A.C's art library shadow palette as the main performance and you're ready for Spring.
Source: @emrata instagram
Soft Spring Lips
Rather than bold lipstick or a matte finish, the season is gravitating towards glossy lip tints. Shades of cheeky pinks, fruity light oranges, magnificent maroons and cherry hues make it easy to meet our daily fruit intake this time of year. While the shades are technically softer, the effect is still impactful from the colours whilst lending a lighter, dewier effect that feels in line with the more natural makeup we're seeing right now. These happy and optimistic tones also coincidentally compliment a crisp rose at golden hour which doesn't go a miss in THE Bthis writer's eyes. Matching lips to liquid may be our favouritespring time excuse for an impromptu happy hour.
Perfect Pouts – Instagram/@lauraharrier Instagram/@gracemargaretha
 Shine Bright Like A Diamond
Twilight fans should be overjoyed to cosplay the glittering hair and dewy skin that practically dripped off the fashion month runways. Body glitter, like that seen once on festival goers and now on models at the Blumarine Spring show, has been on our radar for a while now as one of our favourite re-emerging Y2K beauty trends. If the start of pool season inevitably makes you want to don this mermaid-inspired makeup look, you'll want to get your fins on products like the YSL beauty sequin crush mono eyeshadow from, paired with the MAC Lipglass for lips and lids for an extra light-catching effect. While wet, shimmering products generally go on effortlessly and feel lightweight on the skin—to really enhance this dewy glowing look, a luxury gel like La Mers ultra-lightweight moisturiser is the perfect complimentary base. Add in the cult classic Go-To Skin Luxury face oil and how beautifully your look will come together to catch the light. If you want to be the shooting star of any event, sprinkle MAC's shimmering pearlescent body glitter along the decolletage, shoulders and down your arms for an angelic all-over glow (possible to INSERT BODY OIL PRODUCT if you want another plug??).
Photographed by Acielle / StyleDuMonde
 Braid-y Bunch
The prettiest of plaits have intertwined the hands of many stylists on the runways this Spring,  to which we gladly met with nostalgic glee! Taking us back to sleepovers and schoolyards, there's something so reminiscent about this season's primary school inspired must-have hairstyle. From Euphoria to Erdem, the fresh and natural look is saturating the pop culture and fashion world, with an array of plait styles taking centre stage of a pin-straight (middle) part. In particular, the emergence of beachy waves surrounding baby braids became our must pick for the season. The best part? This 70s time capsule beachy look can be so easily achieved, first off by using the GHD BODYGUARD – HEAT PROTECT SPRAY 4 FL. OZ. – because while we're here to slay, we aren't here to slay hair follicles, followed by the SOFT CURL 1.25″ CURLING IRON – your best friend when recreating the loose waves that surround your front plaits this Spring. Of course, one must tie the look together with shine, and we have placed Kerastase'sL'Huile Original Hair Oil and Laque Couture Hair Spray on the top podium. When the day is done, we strongly suggest incorporating our favourite Discipline Anti-Frizz Deep Treatment Hair Care set from Kerastase to wash, condition and mask your hair from the friz-inducing humidity that comes with the change in season from cold to hot. We're looking for H20 mermaid lock hydration, not Krusty the Clown.
JP Yim + Getty Images
Cassie from Euphoria
We've seen these looks on all of the hottest celebrities and runways and we're ready to give these spring makeup trends a try for ourselves. With Australia's unique online beauty event, The Beauty Drop, hosting a long line of premium brands, including some mentioned here, from the 7-8th September, it's clearly the unmissable beauty event of the year. In saying that, like all good events, time is ticking on the availability of products, so it's first in first served. We recommend following their socials with an eagle double winged liner eye to be the first on the case, as well as signing up to all updates in order to avoid missing out. Better yet, become a VIP to win prizes, gain early access to the event and be the first to know about our limited drops. Dare to be different as a pioneer of Spring's latest trends, at a fraction of the cost – become a VIP now.