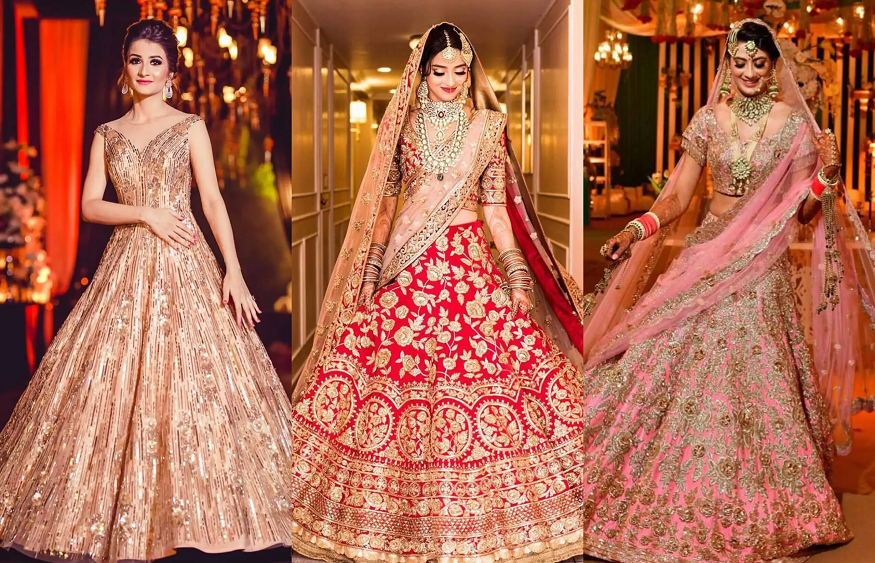 Bridal Lehenga Ideas: Elevating Your Wedding Ensemble
Your wedding day is a pinnacle, the epitome of everlasting memories, where every detail matters, especially the attire you adorn. The Bridal Lehenga, a traditional ensemble exuding elegance, holds the power to transform a bride into a resplendent vision. To guide you through the array of options, here are some unique ideas to inspire your Bridal Lehenga selection, ensuring that you stand out and shine on your special day.
1. The Classic Red Elegance
Eternal and timeless, the classic red Bridal Lehenga remains an all-time favorite. Opt for rich red hues and intricate gold or silver embroidery, adding an unparalleled sophistication to your bridal look.
2. Contemporary Pastel Hues
Embrace the contemporary vibes with pastel-hued Lehengas. Soft shades like powder blue, blush pink, and mint green offer a refreshing take on traditional attire, infusing delicacy and modernity into your wedding ensemble.
3. Embellished Metallics
For a touch of grandeur and opulence, consider metallic Lehengas. Gold, silver, or copper tones embellished with sequins, beads, and zari work offer an awe-inspiring and regal appeal.
4. Floral Prints and Patterns
Incorporate floral patterns and prints for a refreshing, nature-inspired Lehenga. Beautifully adorned with embroidered or printed flowers, these ensembles lend a touch of elegance and vibrancy.
5. Rustic Charm with Earthy Tones
Step away from the conventional and embrace earthy tones like deep maroons, burnt oranges, or olive greens. The subtle rustic charm they offer is a unique departure from the traditional red.
6. Modern Fusion: Lehenga-Saree Blend
Experiment with a Lehenga-Saree fusion, a contemporary choice that beautifully combines the traditional Lehenga and the fluid elegance of a saree, offering a distinctive and modern aesthetic.
7. The Sheer Delicacy of Net Lehengas
Opt for net Lehengas with delicate embroidery or embellishments for an ethereal look. The transparency of the fabric adds grace and softness to your overall bridal attire.
8. Heirloom Embroidery
Consider Lehengas with intricate heirloom embroidery, resplendent with vintage designs and threadwork that evoke nostalgia and a sense of tradition.
9. Offbeat Color Combinations
Explore unconventional color combinations. A fusion of bright orange and royal blue or a blend of teal and magenta can provide a unique and striking visual appeal.
10. Minimalistic Chic
For the minimalist bride, a Lehenga with clean lines and minimalistic designs exudes sophistication and elegance. Opt for subtle tones and uncomplicated embroidery for a refined look.
11. Regal Velvet Ensembles
Velvet Lehengas, with their plush texture and regal aura, offer a luxurious feel, making a bold statement with their richness and depth of color.
12. Intricate Mirror Work
Lehengas adorned with intricate mirror work offer a dazzling effect. The mirror detailing adds sparkle and vibrancy to your outfit, reflecting a fusion of tradition and modernity.
13. Layered Lehengas
Layered Lehengas with multiple tiers or flares bring an air of grandeur and movement to your bridal attire, adding drama and volume to your ensemble.
14. Peplum Style Lehengas
For a contemporary touch, opt for a peplum style Lehenga. This modern silhouette adds a touch of elegance and chic finesse to your bridal look.
15. Playful Prints
Consider Lehengas with playful prints or quirky patterns for a unique and lively wedding look, reflecting your vibrant personality on your special day.
In your pursuit to select the perfect Bridal Lehenga, consider your personal style, wedding theme, and most importantly, what makes you feel like the resplendent bride you aspire to be. Each of these ideas caters to different tastes, ensuring a wide array of choices for your big day. With your unique touch, you're certain to illuminate the day with your distinct bridal charm.
Read more –https://mymandap.in/red-and-green-bridal-lehenga/
Frequently Asked Questions (FAQs)
1. What's the significance of the red Bridal Lehenga?
Red symbolizes love and prosperity in many cultures, making it a traditional choice for brides in various regions.
2. How can I find the right Lehenga for my body type?
Pay attention to the Lehenga's silhouette; a flared Lehenga suits most body types, while A-line Lehengas are more figure-hugging.
3. Are pastel-colored Lehengas a good choice for traditional ceremonies?
Absolutely! Pastels are a modern take on traditional attire, blending elegance and vibrancy perfectly.
4. How do I choose between intricate embroidery and minimalist designs?
Your choice should reflect your personal style. Intricate embroidery offers opulence, while minimalist designs exude sophistication and simplicity.
5. Can I personalize my Bridal Lehenga with my favorite elements?
Yes, absolutely! Personalizing your Bridal Lehenga with elements that hold sentimental value can make it even more special and unique.
Your Bridal Lehenga marks the beginning of an enchanting journey into marital bliss. Let it be a manifestation of your unique style and personality, radiating the beauty and grace you possess within.