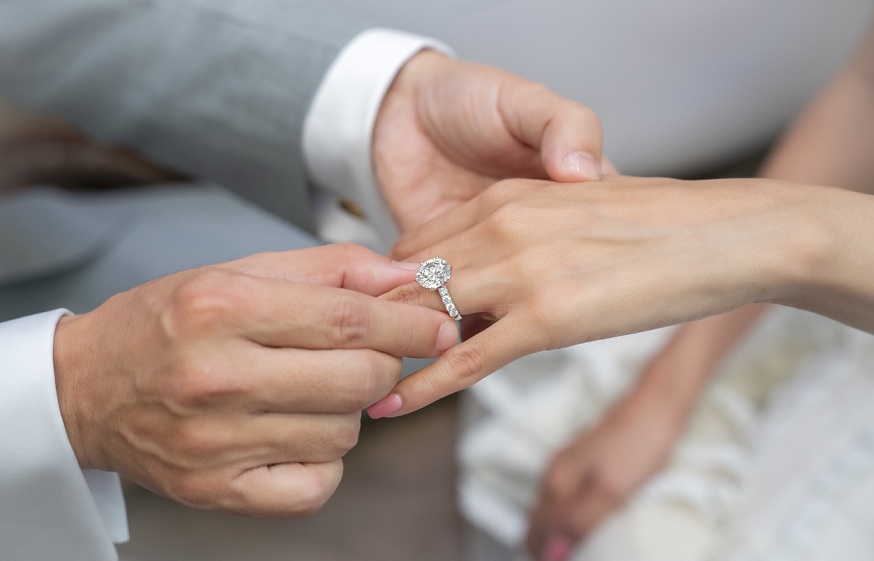 Classic Wedding Rings Set for Couple
With the growing trend, even matching rings sets are getting in popularity. Such identical rings have instantly become a wedding staple these days. The idea behind a similar ring set is that couples are of the view, a matching ring set is the expression of their love for each other. They also say that this similarity shows the symbol of equality in their marriage. With hers and his rings, they express their never-ending partnership. Further, wedding rings are generally a set of matched diamonds and an engagement ring's band.
The ring set is usually designed in two, white gold and platinum. These two metals have remained the most popular in the couple's set. Contrary to this, rose, gold, yellow gold and even jewelry made of two tones have emerged as a strong resurgence. Therefore,the market brings endless options for the couples' big day. Hence, this blog has picked the best ring classic wedding ring sets.
1- Wave Design Diamond Wedding Ring Set
Wave design diamond wedding ring set is one of the best-designed rings sets that couples choose for their wedding day. This ring set has a carved wave-cut design that looks elegant on the wearer. Ring's band wraps itself around the finger gracefully. Its wave design offers you two different yet unique finished parts, that are brilliantly contrasted with the muted finish. Furthermore, this round ring has 0.09ct diamonds on the woman's band that truly shines like a star. Similarly, for couples who are looking a wedding ring set at a reasonable price can have a look at it. This option would be a perfect choice for them. Other than this, Wave brand offers their customers to customize their wedding ring set according to their own choice of design. Luckily, you can get more high-quality wedding ring sets with Altınbaş Hediye Çekleri at wallet-friendly prices.
2- Color Duo Contemporary Low Dome Set
Color Duo Contemporary Low Dome wedding band set is a two-tone featured ring set. It is best for couples who prefer two-toned ring sets for their big day. Further, her ring of her is designed breathtakingly beautiful and sleek that has 0.25ct TW embedded diamonds on the whole band. this chain of diamonds in the band shines extraordinarily on the finger of the wearer. Also, she will feel proud to show her diamond embedded ring to her bridesmaids. Other than this, his ring is made slightly thicker than hers. His ring also features the same yellow gold on the inside and the same white gold on the outside. Having the 14K white gold, this couple ring set has remained the best seller for a decade.
3- Dome Solitaire Wedding Band Set
The Dome solitaire wedding band set is the best for the couples who want to keep their wedding ring set more traditional. This set is made with 14K whit gold, especially for her and his. Due to its unique design and affordability, this set has remained the favorite among couples. Its simplicity and elegances speak loudly themselves. The feature that you find eye-catching in this set is the 1 round cut diamond embedded right in the center of the ring. Similarly, for more genuineness and authenticity this set is graded S1 in clarity and G in color.