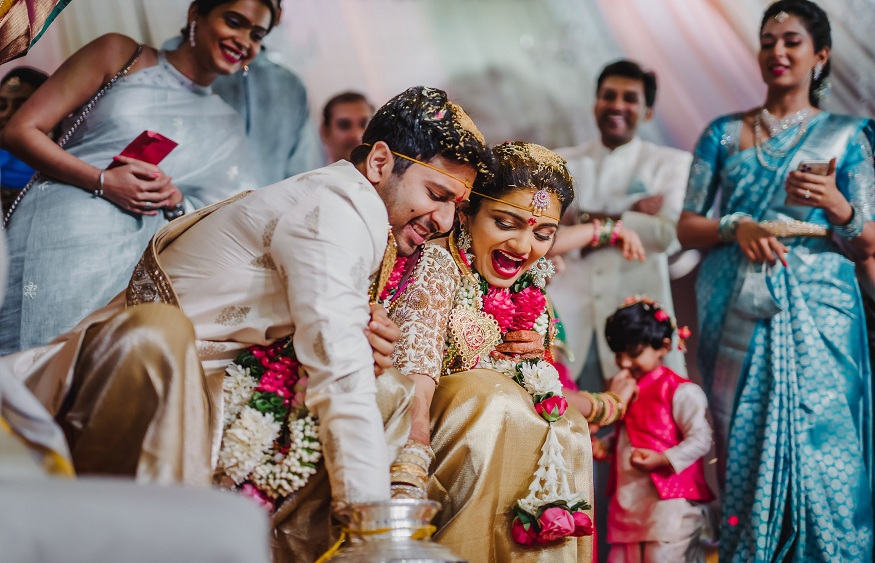 Tips To Look More Photogenic In Your Wedding Pictures
Photography has been considered a way to tell stories about the event. People present there and the ones who don't still get to see the different moments of the event. Especially, when it's your big day, the wedding photographs are saliently considered to be done by a professional Indian wedding photographer.
It is very important to choose a professional photographer for your wedding.
Professional photographers like the ones from Shan Photography. Do their job up to the mark however, there are contributions needed by our side (as the couple) as well. The way we present ourselves in front of the camera influences the shot which is why you should keep some things in mind.
We have prepared a list of things that you should take care of during your wedding photoshoot:
Face mask:
Pre-bridal preparation is very important. All the brides reading this, take a note to get a facial a few days before your wedding. It will rejuvenate your skin and allow it to recuperate from the treatment for a few days. If your skin is sensitive, apply your favorite mask first thing in the morning before applying makeup. It hydrates your skin and removes dead skin that might result in cakey makeup. And we are sure, you don't want that?
The right makeup:
Makeup selections matter a lot on your wedding day, believe it or not. When it comes to cosmetics, flash photography isn't always the friendliest. As we discussed the matter with some professional makeup artists, the suggested few points like limiting the glow to just a few spots on your face. Only the high points of your face should be highlighted. You don't want to seem washed out on your wedding day, but you also don't want to look shiny. And don't forget to glow inside-out!
Hairstyle:
You'll already look stunning as a glowing bride, but an elegant hairdo will make you feel confident on your wedding day. Also, go for a beautiful haircut that suits your haircut and hair volume as well. Some women like to hide their ears, the solution to that is a long flowy curled look. If you don't want your nose to be highlighted, don't separate your hair in the middle.
Smile, please!
As clichè as it sounds, it is said to a smile is the perfect makeup a girl can wear. Indeed, it is the additional makeup that's important to be carried throughout the wedding!
Remember to smile, even if your feet hurt from the shoes or you can't wait to eat your great reception cuisine. Remember to keep a positive attitude. Not only for your photographer but also for your visitors who are photographing themselves with you. This goes both for the bride and the groom as well.
Proper Posture:
Your body language not just decides the vibes around you but in the photographs as well. Keep your head up, tighten your ab muscles, and bring your shoulders back. Indian wedding photography is often seen going on for more than one-two day, because of the rituals itself in the wedding. So, it is important to maintain a good posture during these rituals for better photographs.
Look for the right accessories:
The correct accessory can make a big difference so can a wrong one! You don't want your jewelry to draw attention away from your face or your outfit. One of the great decisions is to involve your bridesmaids in the selection process.
Practice:
Practice in front of the mirror to ensure you look your best on the big day. With the help of your hairdresser, try out various hairstyles. You can also talk to your Indian Wedding Photographer. You can ask them to take test shots for you as a test run for the real pictures.
Diet:
We understand things might be overwhelming but it is important to have the proper diet to keep yourself in the right place. It is important that you drink plenty of water which would be good for your skin and will keep you hydrated as well.
Keep wipes with you:
If it's a daytime wedding your skin can become quite oily. The oils in your face will break down the foundation and concealer after a few hours of usage. Have some oil removal wipes on hand, even if your skin is generally dry. Return to your guests looking perfect by gently dabbing the oily spots in the bathroom.
Relax:
Your body language can show many things that you would definitely don't want to be seen. In photographs, tense shoulders, faces, and limbs can be seen. If you don't relax your muscles, you'll appear harsher and less graceful. Take a few deep breaths and concentrate on your posture. You've got it!
Bonus photography planning tips you can consider:
A makeup trial:
If you want to be properly prepared then you should schedule a hair and makeup trial before the big day. This will allow you to visualize how your wedding will appear. This will help you feel more at ease in your wedding day outfit and will also give you an idea of how to pose for photographs in this outfit.
As a trial, we recommend trying on cosmetics and then getting photographed. This will show you how you'll seem in front of the camera after applying makeup. Makeup might sometimes appear great in person but not so much on video.
Pre-wedding shoot:
Going for a pre-wedding shoot ahead of time is quite beneficial. Now you must be thinking why ahead of time? One of the major reasons is that it makes you comfortable in front of the camera. This will prepare you to be comfortable for long hours in front of the camera that day. You could explore some things like if there are some poses you are comfortable with and vice-versa, the same can be discussed with your Indian Wedding Photographer. This will certainly give you an idea about what it's like to be in front of the camera and be in the moment too.
Practise celebrity pose:
Try this iconic red carpet position (you can try this with your partner-to-be):
Stand 45 degrees away from the camera with your hips rotated.
Placing your weight on your back foot is a good idea.
Extend your other leg in front of you and cross it in front of you, with the foot pointing toward the camera. Bend your knee slightly to avoid locking up or seeming rigid.
Put your hand on your back if you want to.
Don't forget to put a smile on your face!
Don't undervalue the power of laughter:
Fake it till you make it just got real! Let out a "Ha! Ha!" the next time you need to loosen up for a shot. Then repeat the process. And once more. The absurdity of it will make you and everyone else laugh out loud.
Last but not the least, avoid slouching.
The fact is that Indian wedding photography is not rocket science, you just have to behave in a certain way and keep yourself collected that day. But the main thing is don't forget to be yourself. It's your day, live it to the best.