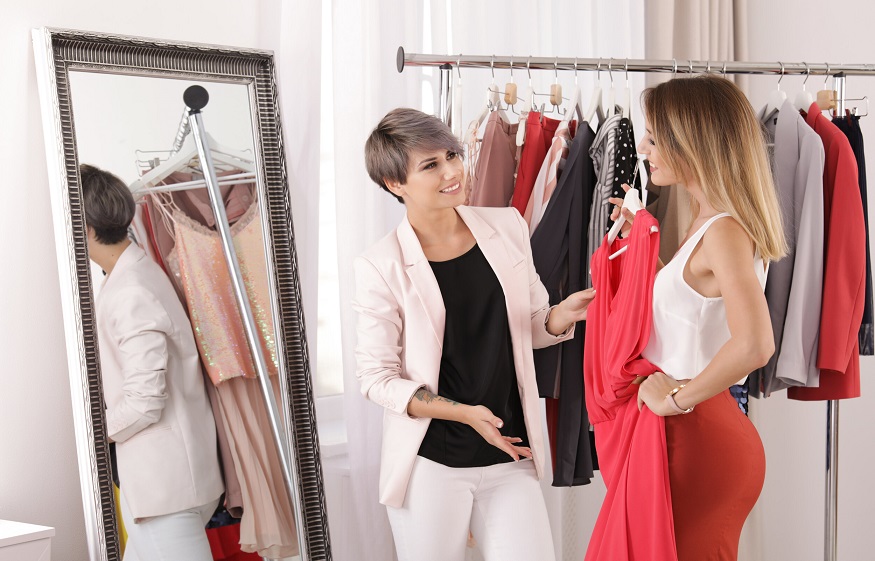 WHY DO WOMEN WITH SIZE 34 HAVE 20 TIMES THE CHOICE OF CLOTHING?
his trendy little top and matching skirt are your envy. Yes, but there you go, their sizes do not go beyond L or 42-44. This situation you may have already experienced, but even if you haven't, you may have noticed that beyond these sizes it becomes difficult to dress just as it becomes difficult. to identify with the muses of the brands.
However, sizes 40, 42, and 44 are the best-selling in France and 41% of French women dress in sizes from 44 to 56.
So why are generous beauties often pushed out of stores with so little choice? The Lemon Team has analyzed plus size fashion and reveals everything to you!
How can we explain the difference between the size of women and the choice they have in store?
The French Institute of Textile and Clothing (IFTH) presents us with this striking observation: size 34, which is widespread on 0.7% of women in France, offers them the possibility of choice of around 14% of the offer. dresses therefore 1470 models (the dress is taken as a comparison garment). At the same time, size 46, which 9% of women wear, only offers 0.6% of dresses, or only 65 models.
It is therefore obvious that fashion brands are not aware of the size of women and that they do not offer enough an adequate offer.
To understand this assessment, IFTH offers us several explanations:
Most women choose clothes that are smaller than their usual size and therefore tighter.
Slender women consume more clothes than average.
Added to this is the fact that young girls under the age of 18 do not hesitate to go and dress in the adult women section.
Up to size 40, it is still easy to find your size but for sizes 44, there is clearly a lack of supply while there is a real market.
The latter have 3 times less choice of clothing than the others. For women size 46 this goes up to 15 times less choice to go up to 71 times less choice for women size 48.
When will there be equality for all sizes?
Despite some consistent explanations, the clothing offer still has a long way to go to align and satisfy most women who do not do 34.
With the increasing exposure of generous women in the press and media, it would be recommended to expand the plus size offer, especially as specialist brands for generous beauties are multiplying.
The editor wanted to go further than the explanations given by IFTH and brings you other answers.
Fashion and plus size: between hesitation and awkwardness
The "large" market called "plus size" by our American neighbors is now estimated at just over 15 billion euros. Moreover, it represents 18% of the total of women's ready-to-wear and recorded a growth of 5% last year. As such, it is a juicy and promising market from which the major clothing groups wish to profit.
H&M, Asos, Forever 21, Uniqlo… many of them have publicly or more discreetly launched a collection dedicated to large sizes. But is it really about size when the clothes painfully reach size 44? When shapeless mannequins are chosen to wear these clothes on brand websites?
Some like Missguided make an effort to go up to size 52, but the productions are often made in smaller quantities, it is not easy to find the right model. Others like Asos tailor their clothes for short, tall and curvy. Its partner sellers can even go up to size 58.
Although the choice of plus size clothing is growing on the internet, in stores the change is still waiting! The generous beauty must often choose between a large specialty store or the basement of a store that is afraid that size XXL is too showy mixed with the other rays.
Why this rejection? Is fashion trapped in a golden cage preventing it from seeing reality?
At Abercrombie & Fitch, we like generous breasts… with an hourglass figure
Here's a (brilliant) explanation from Mike Jeffries , the highly controversial CEO of Abercrombie & Fitch, known more for his slippages and botox addiction than for his fashion savvy: "Abercrombie is only interested in people with bellies. dishes that look like surfers ready to jump on their boards "or" I don't want our main clientele to see people who are not as attractive as they are wearing our clothes linen bedding
These dubious statements added to a recruitment which would be based on the physical even made Abercrombie to be suspected of discrimination by the defender of the rights, but in the end, Mike Jeffries does not say aloud what other brands are thinking softly?
A brand image to take care of
Another more serious and psychological reason exists. Benoît Heilbrunn, professor at ESCP, the Institut Français de la Mode (IFM) and Celsa explains to us what marketing objective brands wish to fulfill by not distributing large sizes. No XL and especially no XXL, the idea is to oppose a symbolic rejection to people who could tarnish the image of the client or the ideal client of these brands ".
Cultural beauty VS natural beauty
We therefore prefer to sell to fashion prints rather than to women of all morphologies and measurements.
According to Benoît Heilbrunn, by doing this we oppose natural beauty to cultural beauty: "the fashion market is structured by an ideology which very clearly opposes natural beauty and cultural beauty. Cultural beauty is founded on the idea that there are ideal measurements that brands will embody in muses: a slender, slender body that is in control of impulses and emotions. This model aims to vassalize (editor's note: submit to a power, subordinate) the client by projecting an inaccessible model to her, thus establishing a relationship of power. Natural beauty, on the other hand, implies that all women are beautiful, even if they are not aware of it ".