Red Saree Supremacy in Indian Weddings
If you have always wondered why most Indians pick red sarees for weddings, read on to find the answer.
Indian weddings are known for their elaborate customs, traditions, and colourful attire. Among the various traditional Indian sarees, red sarees have always been the most preferred and popular choice for wedding wear.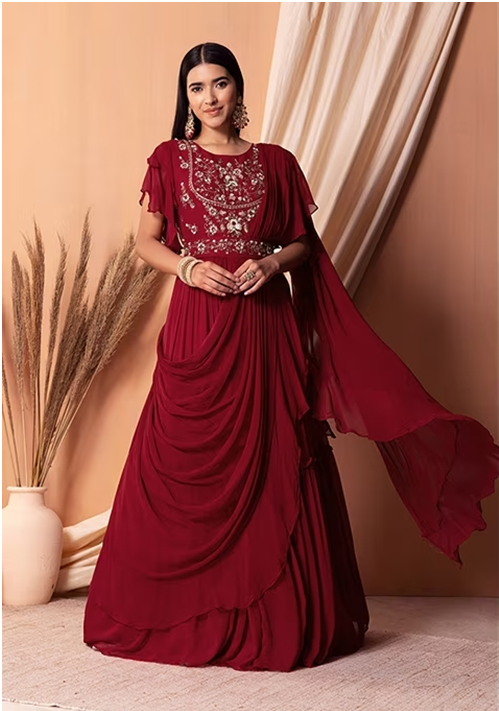 Do you know why?
Well, it is because Red is considered a symbol of love, passion, and auspiciousness in Indian culture, making it the perfect colour for weddings as well as new beginnings. In this blog post, we will explore why red sarees are an excellent choice for weddings and the latest trends in red sarees.
Designer Indian Sarees come in a wide range of colours, fabrics, and designs, each representing a unique aspect of Indian culture. However, red sarees hold a special place in the heart of every Indian bride. Red sarees are considered the epitome of elegance, sophistication, and beauty and are an undisputable symbol of purity and unconditional love! Designer red sarees are also sought-after because red colour complements and looks stunning on every Indian skin tone and body type.
Here are our top 8 picks for red wedding sarees; you must check out:
Red Banarasi Saree– a tale of sheer elegance and timeless appeal!
Designer Embroidered Red Sarees– for a jaw-dropping look
Red Silk Sarees- dwell in luxury with feminine whimsy
Wine-tiered Pre-stitched Saree– is fun and quirky with a dollop of sass
Maroon Organza Ruffled Pre-stitched Saree– one of the trendiest and most-loved wedding saree styles by brides as well as bridesmaids
Belted Red Sarees– for the fashion-forward divas
Maroon Mukaish Work Pre-draped Saree– Perfect fusion of traditional and contemporary styles
Red Saree with a Contrast Blouse- Another hit trend gaining popularity is pairing a red wedding saree with a contrasting blouse, such as a green, golden, ivory, off-white or black blouse.
Other Popular Wedding Dresses for Women in 2023
2019-pandemic started the trend of intimate weddings in India. And with that came the extended horizon of ditching red sarees and lehengas and embracing other styles of ethnic wear for weddings, such as embroidered shararas, pastel lehengas, metallic gowns, indo-fusion wear, etc.
Blue Dresses for Women 
While sarees and designer lehengas are the top outfit options for weddings in India, many women are now gravitating towards unconventional hues and fusion-ethnic styles, such as Angrakhas, ethnic jackets, and dresses. Blue dresses for women, in particular, are gaining popularity in 2023.
Blue is a calming colour that symbolizes royalty, trust, loyalty, and wisdom. It is a colour that looks good on all skin tones and can be styled with a range of accessories. The blue palette offers an exciting range of hues to experiment with, which is why it has become the new Red! Some trending blue dresses online are teal blue Anarkali gowns, navy blue Sharara sets, turquoise blue designer sarees, etc.
Pink Dresses
Pink is probably the 2nd most sought-after Indian wedding colour. All because of its youthful vibrancy! Some trending hues of pink are hot pink, fuchsia, rose, blush, light pink, and dusty pink.
Emerald Green
If you want a regal look and stir things up, go for an Emerald Green Dress and complete your look with statement gold jewellery. From designer lehenga cholis, embroidered sharara sets, and pre-stitched sarees to long Anarkali dresses– emerald green has a lot to offer!