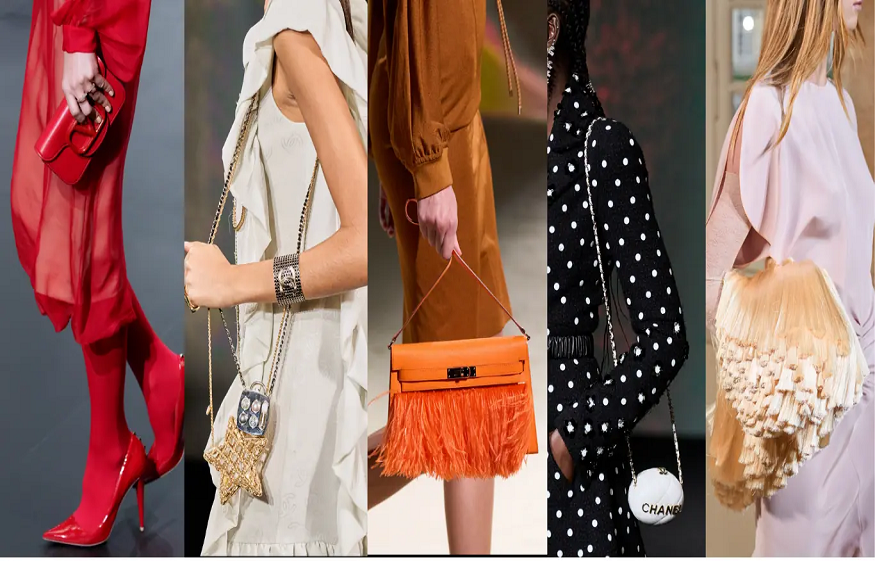 Spring and Summer Accessory Fashion Trends for 2023
For Spring/Summer 2023, weaving is brought to life through artisanal craftsmanship and sustainable practices like durability, quality, and upcycling, while seasonal designs reflect the values and messages at the heart of new consumer mindsets. The right or wrong choice of accessories can make or break an outfit, so they are crucial in the fashion industry. Soft, plush textures will be prominent in the Spring/Summer 2023 season, and handbags will have easy-to-carry silhouettes that hug the body. Because people want to feel at ease, this will be implemented. Seasonal designs reflect the values and messages at the core of new consumer mindsets, while artisanal craftsmanship and sustainability achieved through durability, quality, and upcycling bring weaving to life. During this year's New York Fashion Week, Fendi honored the 25th anniversary of its signature "baguette" handbag. This happened back in the month of September. Designer Kim Jones felt that New York was the right place to hold the show because of the bag's central role in the original Sex and the City series.
Keep reading to get the scoop on this year's most talked-about Spring/Summer 2023 accessories.
Metaverse-inspired footwear
Similar to how the fashion industry has been influenced by the online world, shoe designers are beginning to incorporate elements from the virtual world into their creations. Designers and brands are increasingly experimenting with whimsical styles that feature exaggerated, pumped-up proportions that are highly creative and highlight unexpected elements in their rendering. The metaverse served as inspiration for the molded appearance of the constructions, and the rounded, bulbous sole units make the shoes look like they were made for an avatar. Footwear that resembles soft gathered socks and glittering crystal studs is a further accessory that is sure to be popular with Generation Z and Generation Alpha.
Soft handbags
The upcoming season will feature handbags that are both roomier and cushier than in previous ones. This is a direct result of consumers' expressed need for ease of use. Lightweight, easily carried, and fashionably bold, a bag with a large body is a must-have. Bags should have a casual, unstructured shape and be crafted from soft, buttery skins. Several prominent fashion designers from around the world have made this a focus. Michael Kors opted for a soft hobo shape bag in bright red to complement an outfit, and Stuart Vevers of Coach displayed a crossbody bag made of soft camel-colored leather with the C logo as a clasp. These two purses went together as a set. An additional pop of color came from a soft tote bag with a tie-dye pattern in a single color that could be found at another section of the Altuzarra shop. Learn more about fashion brands at Slingo.com. 
Upcycled footwear
Designs for footwear that incorporate recycled or discarded parts, components, or even entirely new objects or materials are a prime example of the upcycling constructions trend currently sweeping the fashion industry. Various methods of lacing and fastening shoes have been improvised, including using multiple midsoles to make a "sandwich," using lace trims and duct tape as straps, and combining different types of Velcro and shoelaces. Adding hand-drawn designs that are sewn onto the soles of shoes is a great way to up the DIY factor.
Hat attack
As temperatures rise and more people travel to far-flung destinations, hats have surpassed all other forms of headwear in popularity. High-crowned hats were a major trend on the runways, supported by designers such as Dur Doux, Adam Lippes, and Victor Glemaud. And then others joined in. Its elongated, umbrella-like brim resembles that of bucket hats, and it provides shade from the sun in addition to looking great.
Oversized footwear
This oversized 'it' accessory has replaced the micro bag trend that dominated 2022 due to factors like the resurgence of travel and, consequently, the demand for more space and functionality. This is due to the fact that this oversized it-item is both roomier and more practical. The large tote is useful because it draws attention to its owners by standing out from the crowd, and it also allows them to store all of their essentials in one convenient place. As a result of the trend's popularity, designers have come up with variations suitable for a wide range of settings. Styles range from those suitable for daytime wear made from basic leathers to those more suited to formal occasions with embellishments. Louis Vuitton took center stage at the runway shows, showcasing an array of monstrous handbags. Exaggerated versions of the label's signature monogram clutches stood out among other unique shapes and sizes, such as miniature houses and shiny gold chained shoulder bags. These handbags gave Louis Vuitton's collection a dreamlike quality. The fashion shows for Moschino and Bottega Veneta were similarly hilarious. Traditional styles were chosen by both Chloé and Dries van Noten, the former going with bucket bags and the latter with baguettes.
Crafty techniques
By repurposing materials that have been used in the past, fashion designers and brands are giving these materials a second chance at life in the form of imaginative and evocative accessories. By piecing together scraps of fabric and other materials, one can create colorful panels that feature a variety of patterns and colors that contrast with one another. The construction methods of artisanal bags are a reflection of the do-it-yourself (DIY) and handicraft methods that are embraced by both designers and consumers. The plush bodies of the bags are woven from soft hand knits and padded scraps of upcycled fabric, and the texture is amplified by velveteen and woolly finishes on the exteriors of the bags. A further tactic is to select the appropriate materials in such a way as to give the impression that the cumbersome form is lightweight and portable.
In conclusion: Sustainable practices such as durability, quality, and upcycling, along with artisanal craftsmanship, will be prominent during the Spring/Summer 2023 season. Totes will have comfortable, slouchy shapes that hug the body and are padded with soft, plush materials. There has been a rise in the popularity of footwear that takes design cues from the metaverse, often featuring oversized proportions and a molded appearance. In response to this need for relaxation, manufacturers of soft handbags are developing styles with roomier interiors and softer, plusher textures. Upcycling constructions, hat attack, and oversized footwear are the most crucial developments discussed in this text. The term "upcycling" refers to the practice of building with discarded or recycled materials and components. The brim of a hat attack is long and umbrella-like, like that of a bucket hat, providing shade from the sun and a chic look. The micro bag trend has been supplanted by the larger and more practical trend of oversized footwear. Designers have come up with a plethora of iterations suitable for various settings. All of the high fashion houses from Louis Vuitton to Moschino to Bottega Veneta to Chloé to Dries van Noten included outlandishly oversized handbags in their collections. Colorful panels with contrasting colors and patterns are created using crafty methods like piecing and patching together scraps of fabric and other materials. The use of bucket bags and baguettes by Chloé and Dries van Noten helped to make their bulky silhouettes look more manageable.