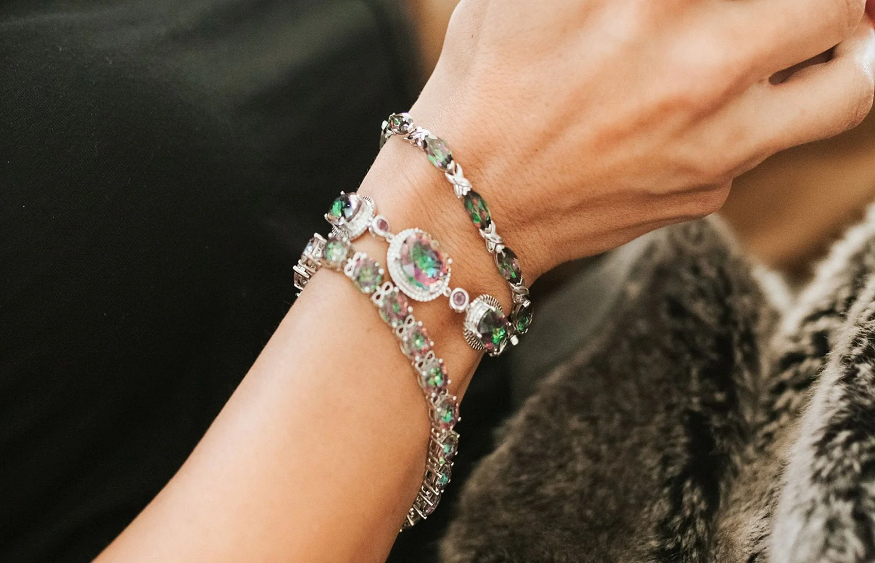 Types of bracelets that every woman should have
The main purpose of any piece of Jewellery is to get people's attention, and a bracelet is made to do just that.
This piece of Jewellery has been worn by both men and women over the years, and it is still very popular today.
Bracelets were a popular accessory for a long time, and everyone from kings and queens to commoners wore them. So this piece of Jewellery can be worn by anyone and everyone.
The designs of the past, on the other hand, were clumsy and cumbersome. So, people only wore bracelets when they had something important to do. But not anyone!
People's tastes have changed over time, and so have the designs ofJewellery. These days, you can get bracelets in a variety of simple styles that can be used to make every day looks look good.
Still, there are many different paths to look into. Even if you don't have all of them in your Jewellery collection, you should still make sure you have a few of them hidden away.
Chain Bracelets
This is a trendy piece of wrist Jewellery that comes in many different shapes, patterns, and styles. It looks like a chain bracelet is very modern and beautiful.
Because of this, they can be worn with any kind of clothes, whether they are modern or old-fashioned. Instead of the more traditional bangles, chain bracelets are becoming more and more popular.
When paired with a small gem or an expensive stone, these kinds of bracelets can look absolutely stunning. This piece of Jewellery is great to wear to any event because it looks so beautiful.
Cuff Bracelets
This is something that has been around for a long time and was just recently found again. Choose a history book and open it to any chapter about Egyptian kings.
At the very least, the cuff bracelets we wear now are copies of the ones they wore. Throughout history, many famous people have worn cuff bracelets, such as the Pharaohs of Egypt and the royal families of Asia.
Unlike many other types of bracelets, cuff bracelets are usually quite large and have a lot of intricate work all over them.
So, cuff bracelets might be something you're interested in if you're the type of person who wants this one piece to look good with the dress of the day.
On the other hand, this bracelet might not be the best choice for someone with very small hands.
Designed Bracelets
These bracelets will be unique, just like their name says. You can ask a jeweler to make you a bracelet that is different from anything else people are wearing.
One of the best things about a bracelet is that it can be made in different ways. You can buy a beautiful piece of Jewellery in Singapore made of silver if you want to.
Many people choose to use fancy chemical beads or other types of beads when they want to make something unique.
If your budget allows, you can buy a piece made of expensive stones and materials like platinum or gold.
Tennis Bracelets
You probably remember when Chris Evert stopped playing tennis in the middle of a game to look for her missing diamond bracelet. At that time, we learned that a widespread trend was starting to form.
Tennis bracelets have a design that is symmetrical and is elegant without being too flashy. So, this is an option to think about if you want something that is simple but still stands out.
Charm Bracelets
Jewellery is not an exception to the rule that fashion is all about expressing in a way that other people find very beautiful.
The charms are what make these bracelets so great, and they are also what make them so fun to wear. Because each person can choose their own charms to put on their bracelet, no two bracelets are exactly the same.
 These charms can be made to look how you want, and you can add a lot of different things to them.
They can look like dream catchers, zodiac signs, symbols of the person, or anything else. These bracelets are great for everyday wear and also make unique additions to a collection of Jewellery.
Pearl Bracelets
Pearls always give off an air of class and sophistication. Pearl bracelets are a great thing to have on hand if you want to dress in an elegant and classy way at some point in the future.
You can dress up for any event with a pretty pearl bracelet, whether it's your best friend's wedding or your boss's birthday. You can change how complicated these bracelets are to suit your own tastes; the choice is all yours.
A bracelet with several strands of pearls always looks shiny and is the perfect accessory to wear with both modern and traditional clothes.
Beaded Bracelets
Egyptians were the first people who were known to wear beaded bracelets. You can read about this interesting fact in history books.
Egyptian kings and queens wore beautiful bracelets with gold or silver beads on their wrists. These bracelets looked simple and stylish at the same time.
So, you can get this item if you want something that looks like it's sophisticated and hard to find. Even though these are some of the most popular bracelet designs, nothing beats having a one-of-a-kind piece.
So, if you can afford it and want to, get something truly unique made for you. But before you do that, you should look at the designs that are popular on the internet right now to make sure that your bracelet is unique and beautiful.
Put on a show with some beautiful bracelets, and let your hands tell their own stories with what they are doing.
COMPOSABLE BRACELETS
They might be perfect for a one-of-a-kind gift for her or him because they are made with love, which is the only feeling that can change the world, and because love can mean a thousand different things depending on the relationship between the giver and the receiver.
With these bracelets, you can make a piece of Jewellery that is always new and unique by putting together a few letters that represent a wide range of emotions.
Still, you can give it to yourself as a gift if you think you deserve it. You can get it with a standard strap or a wider one, and it comes in gold, silver, pink gold, or black.
You can buy as many plaques as you want. Some of the topics you can choose from are LOVE, FAMILY, LETTER, TRAVEL, FRIENDSHIP, and FLAGS. There are just too many of these to count!
Gold bracelets
Gold Jewellery bracelets have always had a charm that is hard to ignore, and this is true for both men and women. This is shown by the fact that these diamonds are often chosen to give the person who wears them an air of refined sophistication, which is emphasized by the details of the accessories.
Why not choose one that has a charm already? Visit the Nomination website to find the option you like best, and thank them for taking it into account.
These bracelets have an elegant, one-of-a-kind design that was made with care and attention to every detail.
The rose gold models stand out because of how shiny they are, and you can style them with any look you can think of.
Interlocked Chain Bracelets
These bracelets are the ones that women wear the most and choose the most often.
These things are made from metal links of different sizes and shapes that fit together. Some of the links have semiprecious stones or diamonds on them.
There is also a type of these bracelets with a toggle clasp, which is now very popular. There are a lot of different colors and patterns for these bracelets.
Bangle Bracelets
Different bangles have been stuck together to make these one-of-a-kind bracelets.
 These women's bracelets are very popular with young women and come in many different materials, like plastic, wood, and metal.
The best part is that you can choose from a wide range of bright, eye-catching colors.