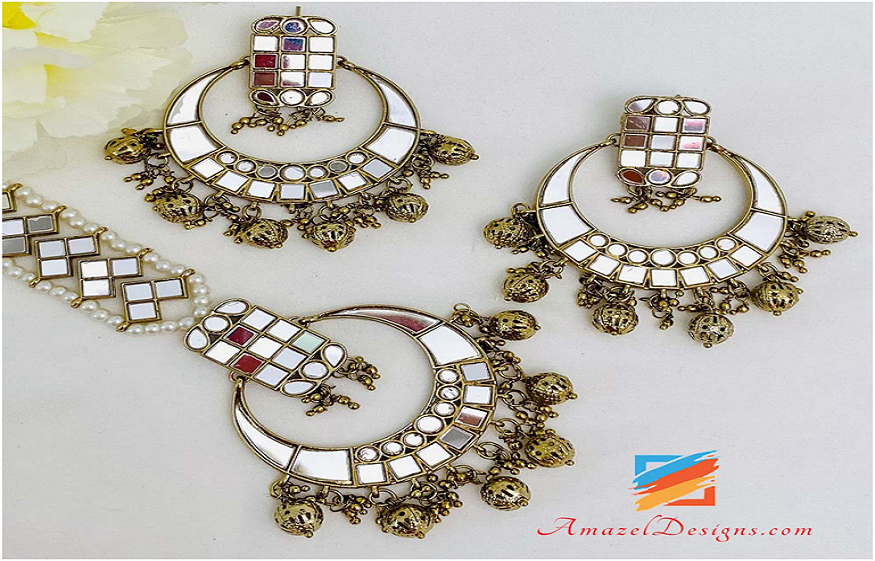 Different Jewelry Types You Must Have in Your Wardrobe
Indian culture is known for various kinds of jewelry creations. Having different cultures and traditions gives a vast scope for creating different jewelry types. There are famous Indian crafts like Jadau, Meenakari, and Polki with the use of precious metals like gold and silver and precious gems like a diamond.
Each style of jewelry exhibits refined craftsmanship and represents the elegance of the respective region. If we talk about Punjabi Traditional Jewelry, it is known for being elaborate, detailed, intricate and colorful.
Below we are mentioning some of the traditional styles of Jewelry that are famous in Punjab and are loved by Punjabis all over the World.
Kundan Jewelry
One of the most popular types of Traditional jewelry is Kundan. Gems and stones are used to create intricate and elaborate pieces of art. It is one of the pieces of jewelry which originated in the royal courts and is extremely popular in the Northern part of India.
Today Kundan jewelry, usually the bride's favorite, is also worn by the wedding guests for the celebration. So having Kundan jewelry in your wardrobe is a must to give yourself a royal makeover. Invest in good quality Kundan jewelry and you will not regret it.
Polki Jewelry
Polki jewelry is created with uncut, rough diamonds paired with other gemstones, set in precious metals like gold and silver. The diamonds and gems are not polished and are left in their raw state to give them a unique appearance. This jewelry is an excellent example of elegance and beauty. Usually, Polki jewelry is expensive due to the use of precious gems and metal but you can always make your way to it by investing in good quality imitation polki jewelry. Must add a few pieces of Polki jewelry to your collection and create amazing looks.
American Diamond Jewelry
American diamonds are well known for their lustrous shine and glam. It looks just like real diamonds but comes at a very low price. It is a great option for those who can not afford real diamonds. You can get many designs and styles in AD Jewelry. It could be a necklace, earrings, or rings, you can get every type of jewelry in American Diamonds.
Having high-quality AD jewelry in your collection can go a long way. You can pair this jewelry with western or traditional outfits effortlessly.
Jadau Jewelry
Another great form of traditional jewelry is Jadau. Lightweight and very beautiful Jadau jewelry can be worn on any occasion.  It was brought into India by the Mughals. It forms an intricate mixture of design gemstones, gold and enameling work. It requires skilled and unique craftsmanship, which makes it very compelling.
Jadau jewelry is a must-have for your wardrobe. This jewelry is a reminder of the rich cultural heritage of India.
Sheesha Jewelry
Shisha or mirror jewelry is excellent jewelry for people who like some 'bling'.  This jewelry originally comes from Rajasthan and is an excellent option to add uniqueness to your outfit. Small pieces of mirror are embedded onto the metal. Due to their reflective surface, it looks very pretty.
Today, mirror jewelry has emerged as trendy jewelry for fashion lovers. It has a classic essence with some modernization. You must incorporate some piece of sheesha jewelry in your wardrobe.
Amazel Designs is the best jewelry online store, who offers an array of unique and exquisite jewelry designs. We have all the above-mentioned jewelry types in various designs and styles. Shop with us and get exciting offers in the USA and Canada.