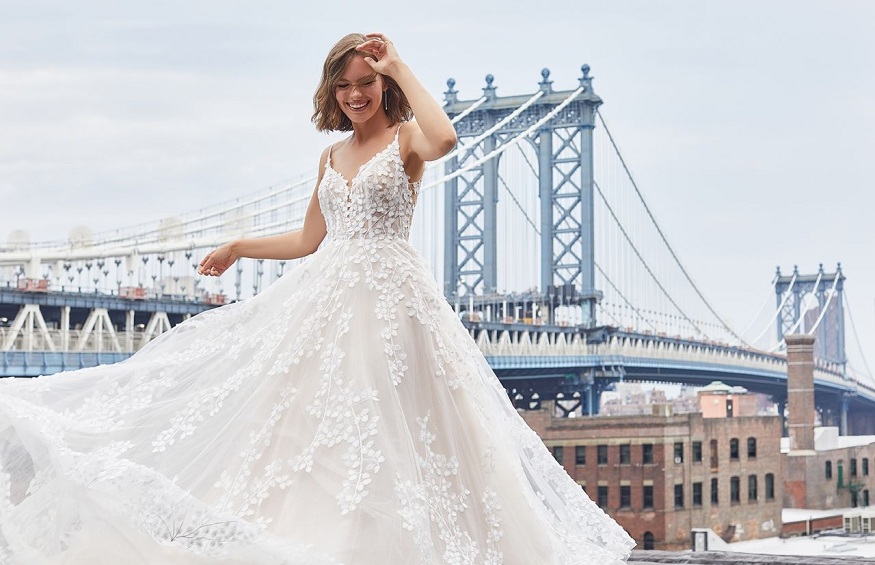 Wedding Dresses for Women
Introduction
The most commonly preferred Indian wedding dresses by the brides are the shararas, lehenga Choli, Gowns and Indian sarees. These elegant Indian bridal dresses have delicate and detailed intricate designs and embellishments of zardozi, zari work, stonework, and even more.
The top preferred wedding guest dresses are Sharara suits, Sarees, Anarkali suits, and indo-western lehenga suits in green, golden, and black hues are most appropriate for the ceremony. It's always best to keep extra outfits when you attend an Indian wedding.
Top 7 Bridal wedding dresses
Classic Red Lehenga – When it comes to the bridal look, no color can match the richness and royal look of the color red. Since it is the most favored color for Indian weddings, it is up to you to bring out the look uniquely. It is better to research the color combination of your lehenga choli and embroideries and use your creative mind, as this can be one way to make your look more attractive.
Heavy Net Sarees – For ceremonies other than weddings, like Sangeet, cocktail parties, and reception, you can let go of the traditional look and opt for a lehenga-type saree or regular net saree with a contemporary vibe.
Cute Pink Lehenga – A pink lehenga is fast becoming one of the most commonly seen outfits for beautiful Indian weddings. The best part about this color is that it won't disappoint you, as it can work on any ceremony. Wear white or ivory embroidery to stand out against the pink background.
Classic white and gold Pattu saree – For a south Indian bride, a white and gold saree is the default safe option if there is a slight confusion about the color you want. Additionally, this is the ideal choice if you want a minimalistic look. It gives you the most elegant look and compliments the Mundu or Veshti of the groom.
Golden sarees – The all-golden look for Indian sarees has recently become a trend among youngsters. This wedding golden saree shade is darker than a typical silk saree and has continuous handloom patterns. A contrasting blouse with golden patterns on the sleeves should be a perfect match for this saree.
Velvet Dresses – The cloth material being velvet, it is ideal for weddings planned during the winter season. The stunning embroideries over the lehenga and blouse give you a royal look.
Stunning combination of Red and Green – An attractive combination of red and green is rare, and when styled correctly, it looks excellent and unique. You can incorporate this color into a lehenga choli or any Indian saree according to the bride's wish.
Top 7 Dresses for an Indian Wedding Guest
When it comes to attending a wedding ceremony as a guest, there are several things you need to make a note of and get ready to match the grandness of an Indian wedding.
Traditional Saree – A saree is one of the ideal dresses to wear to an Indian wedding that is suited for all guests. From the bride's closest sister to a friend or that distant aunt, it is a rock-solid outfit to make a fashion statement.
Salwar suits – When you're a guest, one of the most comfortable and relaxing types of dresses to wear to an Indian wedding would be a suit. These can be uncomplicated and heavy, depending on the type you choose to wear. You can wear a Patiala suit, Anarkali, or long kurta and Churidar, and the choices are limitless.
Lehenga – A lehenga choli will always be the perfect dress for a wedding. There is a broad mixture of lehengas to pick from. You can opt for subtle and light or pastel colors like light pink or blue or even a darker shade that compliments your skin tone and body type.
Sharara– These outfits are considered the most royal dresses to wear to an Indian wedding. This costume is favorable for the sister of the bride or the groom or maybe a close cousin or a best friend. Distant relatives, however, can opt for this outfit, too, if it is in a pleasing subtle shade.
Frocks or Gowns – Evening gowns are a fashionable choice when attending an Indian wedding. These are comfortably trendy; pair this outfit with lovely clutches and subtle jewelry, and you will be party-ready.
Palazzo Pants – Since Palazzo pants have penetrated the fashion world suddenly, they never cease to stun us as wedding outfits. You can pair these pants with fancy and chic blouses, kurtas, or shirts; the possibilities are everlasting.
Anarkali– Anarkali skirts give your costume a royal and classy look and are ideal for weddings. If you don't like wearing a lehenga choli, Anarkali skirts are just the right option.