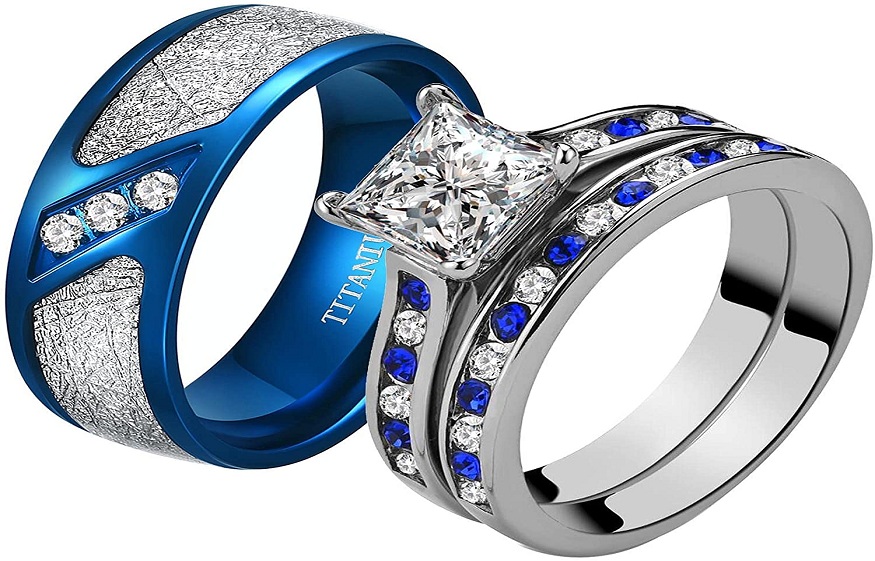 Where To Buy Camouflage Wedding Rings For Couples
A plain wedding ring with a diamond may look pretty but is it enough to make everyone who sees it stare at it with awe? What you need to do is to check out some of our unique and new Camouflage Wedding Ring sets. Everyone may have rings, but yours will surely gain the most attention. So read further for a list of wedding rings, and Camouflage Wedding ring sets you could try.
1. Men's Camouflage Wedding Band Ring 8mm On Black Band
These pristine black rings are one of the best wedding rings you could buy for less than $50. For $46, you can get this or a set of 2 for double the price for your significant other. There are a lot of sizes to choose from, so don't worry about not finding one that won't fit you. It starts at size 4 and goes up to 16. Click the link above and get yours.
Features
Made from tungsten, so it's scratch resistant
Total width of 8mm
2. Camouflage Ring Men's or Women's 8mm
Check out these camo patterned wedding rings that are 8mm in width. Sizes go up to 4-16 like other rings. For sizes 4-8, you'll get rings at 6mm width, while sizes 9-16 are available at 8mm width. You can get these rings in more than one color; you can get plain camo or pink camo. If you want these rings for long-term wear, don't worry about the future as there is a warranty of 5 years available. Click and buy now.
Features
Available in two colors
Made from lightweight tungsten
3.Black Camo on Silver Band Couples Ring Set With Stone
This is a couple's wedding ring made in a camo pattern and where the company considers both men's and women's sizes. Women's rings are available in sizes 4-12, and men can get theirs in sizes 7-16. You can feel the aura of royalty with this black camo wedding ring with a bit of jewelry on top, unlike most camo rings. Order these wedding rings for a small charge of $88 that won't even break the bank. What are you waiting for? These also serve as great gifts for your friends. Buy now!
Features
When an order is placed, services boast fast shipping outside the US
There are half-sized options to choose from for both men and women
4. White Camo Engagement Ring and Silver Band Titanium Ring Set with Cubic Zirconia
Are you bored of black wedding rings? Then try out these white camouflage-patterned wedding rings, or you can buy a set of these men's rings. Women's rings can be found in sizes 4-11, whereas men can choose from sizes 6-16. Like the black camo rings, the white ones are also available at a bank, saving $88. Get now!
Features
Tungsten steel adds scratch-proof durability for long-lasting use
These premium rings have a warranty period of two years
5.   Camo on Black Band and Pink Camo Titanium CZ Ring
The Titanium CZ is the couple's wedding ring for you to check out. Both his and her wedding rings are funky and complementary in design to each other. The men's black band has a camo pattern running down the middle. The women's is pink camo with jewelry on top. Originally charged at $150, you can now get these rings for $88, a definite plus point for you and your spouse. Go for it!
Features
A guarantee of 5 years for each ring purchased
Rings are made from durable tungsten and titanium
Conclusion
These are some of the cheapest and best rings you can get if you want rings for your loved one that would stand out. If your future partner is the kind of person who hates the idea of a classic sterling silver ring, these sets by Southern Sisters can be the ultimate goal. Buy one for yourself or gift them.