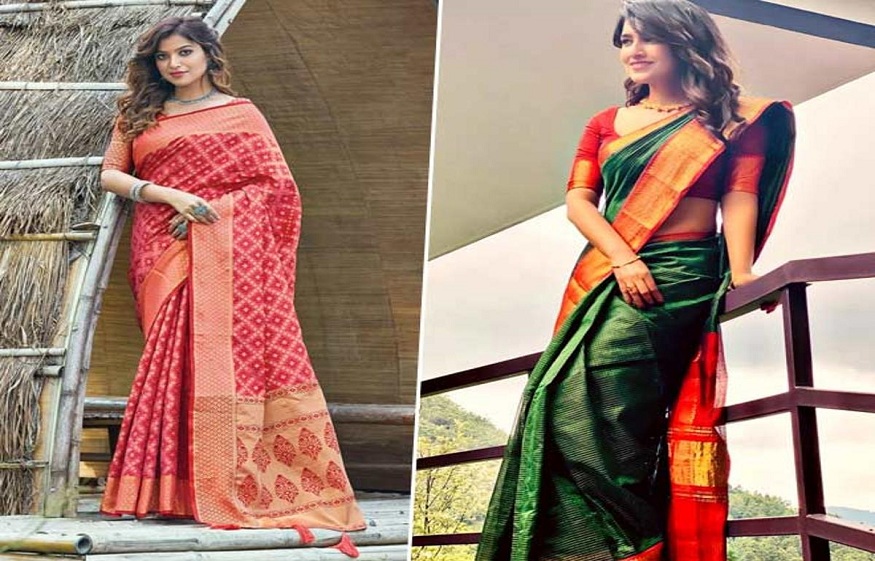 Saree-Every woman's Must-Have
The most loved women's attire is gaining acceptance worldwide for its versatility, and comfort, yes it's a Saree which is a nine-yard of un-stitched fabric that is draped around the body. This women's attire is unstitched and therefore suits all body types, no matter whether you are slim or fat. Ranging from simple cotton to net to silk which is out of all fabrics is the most elegant one, Saree is the Indian wear that makes every woman look beautiful. Whether it's a festival, office function, family get-together, or wedding, this timeless piece of women's outfit never goes out of style. With unlimited styles of Saree available both online and offline, it is not tough to find an ideal piece for any occasion. We will take you through some of the Saree styles that are trending and will help you select the best one for your occasion:
Trending Sarees for Every Style
Sarees with Floral Embroidery:
This style has taken over the Saree trend this year. Of all the latest Saree designs, this style is usually the favourite of most women. The intricate detailing, professional craftsmanship, and unmixed beauty make it a perfect women's outfit.
Organza Sarees:
This Saree can be a perfect option for weddings or classy office parties and dinners. They look like a silk Saree but are less shiny, lighter, and easier to carry. The matte-like finish of this Saree is extremely sophisticated.
Colour Block Sarees:
A perfect summer women's outfit with a splash of different colours which is refreshing and delightful. Avoid wearing heavy jewellery, keep yourself simple for the best look. A simple and elegant piece of danglers can do wonders.
Multi-colour Sarees:
This style never goes out of fashion and mostly every woman owns at least a piece in her wardrobe. At any party, wedding, or occasion, one or the other woman is seen wearing this Saree which makes her stand out from the crowd.
Pastel Silk Sarees:
This style is timeless and it looks like pastel is not going anytime soon. A pastel silk Saree is a perfect wedding outfit that is elegant and classy. You can wear some pieces of family heirlooms with this style as you want.
Net Sarees:
These Sarees are back and are more elegant than ever. Heavy borders, Zari, and Zardari detailing make it the showstopper. Deep-neck sleeveless blouses go best with these Sarees and many Indian celebrities can be seen walking gracefully on the runway, or red carpet wearing these Sarees. Even if it's plain, these Sarees always look gorgeous and classy.
Designer Sarees:
If you have a family function coming up and you want to have a unique look, then designer Sarees are best for you. These are made of luxurious materials with intricate designs and embellishments. Global designers are experimenting with their blouses making the overall attire look stylish.
Ruffle Sarees:
These Sarees are in trend and at every wedding one or two females can be seen wearing them. Silk, georgette, or net are some fabrics in which you can find these Sarees. Girls are preferring these Sarees because it makes them flaunt their style wherever they go. A matching blouse or plain blouse both look equally good on these Sarees.
Sequin Sarees:
The best party outfit for women does not require much effort and accessories to make the wearer look attractive. Don't overdo your makeup, a simple hairdo and minimal accessory will help you rock your event. A piece of diamond jewellery or danglers will glam up your overall look.
Velvet Sarees:
These Sarees are made of natural and synthetic fibers that give comfort like silk and look like fur. After silk, velvet is the fabric that gives the wearer a royal glamorous look. Different designers are experimenting with this fabric by making borders, blouses, and edges of Sarees with this fabric. Not only at weddings and parties but you can wear these Sarees on other small occasions as well.
Few Unique Ways to Drape a Saree:
Front Pallu Drape:
It sounds like a basic draping style but looks super stylish. Instead of pleating the Saree on the shoulder, you just have to throw it back to the front. You can spread the Pallu in front or can also pleat in front that's totally up to you.
Neck Drape Style:
One of the quickest ways to drape the Saree. All you need to do is to wrap your pallu around the neck just like a scarf keeping it slightly longer. A heavy blouse or front with a pair of statement earrings will make you look ultra-modern.
Belt Drape Style:
This is the easiest way to drape your Saree as you only need to wrap a belt around the waist. A leather belt or a matching belt can be wrapped around the waist depending on the colour and style of the Saree. For a modern look, combine your Saree with heels, boots, or sneakers.
Saree with Pants Drape:
If you are one of those who are not used to wearing Sarees then this style is perfect for you. Instead of wearing a petticoat, drape your Saree over pants or jeans. This will save you from the hassle of wearing a petticoat and will keep you comfortable.
Why Buy Online?
The markets are flooded with a huge range of Sarees in a variety of fabrics, colours, and designs. But why rush to various shops looking for a perfect one when you can buy it online from the comfort of your home? We at Indya offer an exclusive collection of Sarees that we are sure you won't stop buying just one.